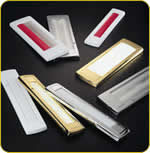 Click for larger image
Taylor Made Products
Taylorbrite®
COLD CATHODE FLUORESCENT SINGLE SURFACE MOUNT LINEAR LIGHTS BY TAYLOR MADE PRODUCTS Taylorbrite's flagship product line, the Cold Cathode fluorescent interior lights offer features and benefits long-sought after by all users in the Marine, RV and Truck markets. CCFs offer durability, long life, low power draw, low heat, low profile/surface mounting, dimming and attractive housing.

The ultra thin CCF tube (6mm) and TIR lens combine to form an ultra thin light (0.9" in height) with no recessed parts. This enables these lights to be mounted in constrained spaces, such as under cabinets, and often results in greater headroom for occupants. Finished in White Powder Coating, Gold, Chrome, and Brass Plating over a Stainless Steel base surface with Diffused WHITE, Clear TIR or Red TIR lenses to choose from.
Dimensions: 19.39" x 0.884" x 4.027"
Power Consumption: 7.5 Watts
Input Voltage/Current Draw: 0.625A@12VDC / 0.313A@24VDC
Illumination: 169 lux/watt @ 3 ft.
Lifetime: 25,000 hours
Color Temperature: 3,000K
Switch: 2-way (On/Off)
Taylorbrite Dimming System compatible (see below)
Weight: 2.1 lbs. / Shipping Weight: 4.0 lbs.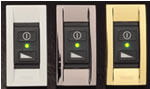 Click for larger image
Taylor Made Products
Taylorbrite®
COLD CATHODE FLUORESCENT DIMMER SYSTEM
Background Some light sources are easy to dim. Incandescent lamps are dimmed by simply reducing the voltage applied, either directly or by various electrical wave-shaping techniques. However, hot filament based discharge lamps, like fluorescents or halogens, require a certain constant power level to keep the filament(s) hot. Certain pulse shaping techniques can be used to provide at least partial dimming for these kinds of lamps, but there is a price to pay in terms of reduced life. A hot filament lamp running partially dimmed may operate for less than half of its normal lifetime! Fortunately, CCF lamps, with their robust electrodes, do not suffer from these drawbacks.

Operation Taylorbrite's dimming system uses a technique known as Pulse Group Modulation, or PGM. CCF lamps are best excited by AC voltages in the 20kHz to 50kHz range. The ideal wave shape is a "sine" wave, similar to the AC voltage wave shape found at a typical wall outlet. This wave shape is preferred because it generates the least amount of radio frequency interference (RFI). For the purposes of this discussion, we will refer to one cycle of the sine wave shape as a 'pulse'. Since the frequency of these pulses is fixed, say at 20kHz, then one pulse will occur every 50uS (1/20,000 second). This is very fast. So fast that if we were to remove one pulse, the eye would never notice it, right? Not exactly. In fact, the brain will average the pulses of light and will cause us to 'see' a brightness level lower than what we normally perceive to be full-on.
The process of removing pulses from groups is called "Modulation". Hence the term PGM means 'removing pulses from groups'. As long as the pulse removal process continues to occur fast enough, the eye and brain will continue to average the result. Very effective dimming can be obtained down to 1% of full brightness! In order for this system to function, the lamp's power supply must be designed to implement this modulation technique. Consequently, a third wire is supplied for the modulation control signal. This signal is generated by the Taylorbrite dimmer module.

Benefits The true benefit of this system is the ability to dim efficiently, without generating heat. Furthermore, dimming does not impede the life of the electrode, nor does it create RFI. Because a "signal" is sent from the dimmer that alters the frequency of the sine wave, power draw of the CCF lights is reduced in proportion to the light output. This is ideal for maintaining battery capacity at night, when full brightness is not necessary, but a slight amount of light may be desired.
TAYLORBRITE® SLIM COLD CATHODE FLUORESCENT DIMMERS BY TAYLOR MADE PRODUCTS
Made in USA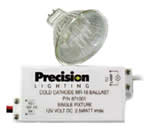 Click for larger image
SailboatStuff
COLD CATHODE MR-16 Designed utilizing the latest in fluorescent light technology, the 12 & 24 volt fixtures incorporates a 2-1/2 watt ballast drawing less than 1/4 amp. The 110 millimeter long tube is contained in a fully enclosed MR-16 (mirror-reflector) bulb making it very rugged. The lamp provided lots of cool white light (approximately 4000 Kelvin), roughly equivalent to a 20 watt household bulb. The surface of the light reaches only 90 degrees when running, eliminating that unexpected burning sensation when you reach up to turn off the light without looking. Installation is made easy with pre-installed spade connectors on the leads of the ballast. The ballast can be placed anywhere in the circuit between the switch and fixture. The lamp will fit any fixture that utilizes an MR-16 bulbs and most Bi-pin (G-4) sockets as well. Average life of this bulb is 10,000 hrs. Includes ballast. 30 degree lighting.