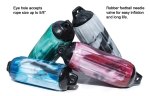 Click for larger image
Taylor Made Products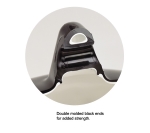 SWIRL SUPER GARD™ INFLATABLE VINYL FENDERS Taylor Made Products is proud to introduce their latest in fender technology and design innovation. New to our line of inflatable vinyl fenders are our SWIRL color fenders, bringing you the finest looking, top performing protection for your dollar. These Swirl Super Gard™ Fenders are in a class of their own, and feature all the same great qualities as our standard line of Super Gard™ Fenders. For hardware please visit Fender Hardware. Made in USA.
The most accurate way to select the right fender for your boat is to survey your docking area to find out what fender is in use for the same size and weight of boat, in terms of fender dimensions and quantities, and use that as a guideline.





Available in the above Swirl colors (in order): Blue, Green, Cranberry, Black