SailboatStuff
LED STRIP/RAIL LIGHT Strip/Rail LED light are available in various lengths. Housed within custom extruded acrylic with a sealed back, mounting holes and wire leads. Waterproof for marine and outdoor use. Strip/Rail Lights are slightly over one (1) inch in length per LED. LED light bulbs operate on very low voltage from 2-3 volts, generate very little heat and have about two (2) watt of lumination per bulb. Available in 12VDC, 24VDC and 32VDC. 3 LED configuration not available in 24VDC and 32VDC. Please call 1-877-44-SAILS or email orders@sailboatstuff.com for custom length pricing. For more information regarding LED Lighting.

Made in USA. LED bulbs by Nichia
Japan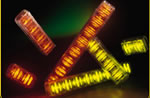 Click for larger image
Taylor Made Products
LED COURTESY RAIL LIGHTS BY TAYLOR MADE PRODUCTS The marine LED Courtesy Rail Lights deliver discreet levels of illumination by utilizing Light Emitting Diode (LED) light engines in combination with Taylorbrite's proprietary TIR lenses, resulting in efficiency 3 to 4 times that of conventional incandescent 'filtered' red lights. They are completely waterproof, shockproof and ignition proof. With a power draw as little as 30mA and a service life of over 50,000 hours, the LED lights are ideal for use as permanent light fixtures for a multitude of marine applications.
The marine LED Courtesy Rail Lights offer surface mounting with a flush look. The units are very thin, measuring a mere 5/16" in height. Mounting is convenient, since there are no recessed parts. The LED light provides adequate illumination as cockpit, passageway, engine room, bilge, and even bait tank lights. They are available in two (1"), four (2"), and eight (4") LED strips. These lights are offered in red and amber colors, which are ideal wavelengths to prevent interference with "night vision".