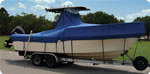 Click for larger image
Taylor Made Products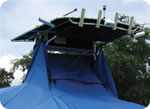 T-TOP HOTSHOT™ BOAT COVERS (WITHOUT BOW RAIL) BY TAYLOR MADE PRODUCTS
NOTE: Covers on this page are for boats WITHOUT bow rails. For boats WITH bow rails, click here.

Features of these covers are:

Bow and stern sections are separated into two halves. The sections are joined through the use of a 7mm single-pull molded nylon zipper on both the port and starboard sides. The stitching of the zippers into the cover halves feature beginning each zipper at the top of the console tube and ending at the hem (finished outside edge). This allows installation of the cover by a single person inside the boat.


The "console tube," or center portion of the cover, fits over the console and under the T-top. Cover design incorporates a "console tube" section with two adjustable straps, which lift and secure the cover halves up and over the console body, and up under the T-top. The top edge of console tube has an adjustable draw rope in both front and rear sections. The draw ropes tighten the tube from side-to-side around the T-top verticals, and are also used to secure the tube to the upper horizontal supports of the T-top. The console tube is not a perfect rectangle as it comes up off the cover halves. Rather it is more trapezoidal in shape, wider at the base than at the top. This allows the cover to fit and function properly despite variations in size and position of the T-tops within the confines of the hull and deck.


Tie down system in the hem or perimeter of the covers. To relieve stress on the zippered ends during over the road trailering Taylor Made Products has added a webbing strap and quick release buckle to the cover on both sides, just above the zipper, to facilitate installation of the cover by a single person. The rope that spans the perimeter of the cover is made into two sections; the first goes from one side at the zipper opening, around the bow, to the same point on the opposite side. The second goes around the stern of the boat in a similar fashion.


Boat covers are made of Hot Shot™ acrylic-coated polyester fabric with a five (5) year limited warranty and are breathable and lightweight, and water, mildew, and UV resistant.


Three cutout pattern styles accomodate different engine configurations:
STANDARD CUTOUT - For boats with single outboard. Cutout opening is 18 inches.
NO CUTOUT - For boats with SeaMount-style engine bracket. NO cutout in stern section.
DUAL CUTOUT - For boats with side-by-side mount, dual outboards. Cutout opening in stern section is 48 inches.

For more information please see Installation Instructions. For other accessories see Boat Cover Parts. Made in USA.







Available in the above colors (in order): Pacific Blue, Hunter Green, Gray, Navy, Black, Cranberry and Teal