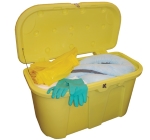 Click for larger image
Taylor Made Products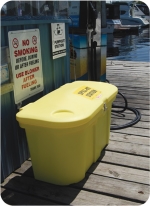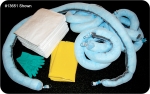 EMERGENCY RESPONSE SPILL KIT BY TAYLOR MADE PRODUCTS Protect yourself or business from fines, hefty cleanup costs and damages when oil, diesel or gasoline is spilled in your marina. Keep Taylor Made's Emergency Response Kit on location as part of your Quick Response Plan for unexpected spills.

Why It Matters As little as a quart of spilled oil, diesel or gasoline can contaminate bodies of water and prove deadly to marine life. The small spills which occur during boat fueling can accumulate and become a much larger problem. According to the EPA, complex hydrocarbon compounds in oil and gasoline are toxic to marine life, upset fish reproduction, and interfere with growth and reproduction of bottom dwelling organisms. Oil and gas ingested by marine life can be passed to the next which consumes it. In a marina, petroleum deteriorates the white Styrofoam floats and discolor boat hulls, woodwork, and paint. Gasoline spills are also a safety problem because of the product's flammability. A single pint of petroleum product released into the water can cover one acre of water surface area and can seriously damage aquatic habitat.

A planned response can reduce the adverse effects of a spill on environmental, economic, and cultural resources as well as the marina's ability to keep operating.

The Emergency Response Spill Kit Storage Box is manufactured from the highest quality UV-resistant polyethylene resin and is 100% maintenance-free. The double-walled lid is secured with a stainless latch, creating a weather-proof design to ensure the contents remain protected and dry.
---